What is a withholding statement?
The withholding statements are forms that summarize the income or expenses generated throughout the taxable year.What is a W2-PR?
The most common withholding statement is the W2-PR. Every employer who has paid wages with income tax withheld in Puerto Rico must submit this form to the Department of Treasury and the Social Security Administration. This form summarizes your income and withholdings for the taxable year.
In summary, if you are salaried, your employer must provide you with a W2-PR to fill out your return.
What is a 480 form?
Form 480 is a document that summarizes payments that have not been subject to withholding, payments generated to a supplier for services, distributions, among others, to declare statements before the Department of the Treasury of Puerto Rico. There are variations of this form: 480.6SP, 480.7C, 480.6D, 480.6A, 480.6B, 480.6C, 480.6EC, 480.6CPT, 480.6F, 480.7, 480.7B, 480.7D and/or 1099-R. The form you receive depends on your tax situation.
For example, if you have investments, the brokerage must share a 480.6 form that summarizes your capital gains or losses to report on your return.
What do I do with my W2-PR, 480 and any other information or proof?
Use the information in the statement form to fill out the return. Filling out this information in Taxmania is easy. Just select the statement you received within the program and fill the relevant information.
Basic Version: Income Section, Add Income: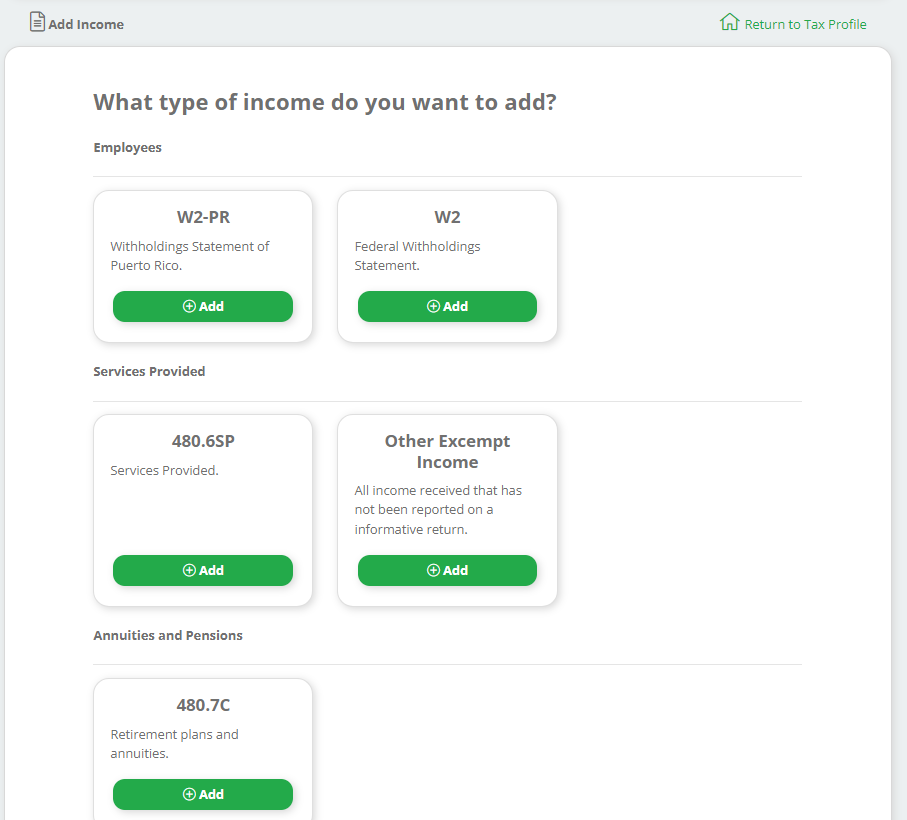 Classic Version: Withholding Statements: